You are here
Smart Specialisation Projects

 During the 2007-2013 period, the FEMTO-ST institute benefited from ERDF funding for around 20 projects for an overall amount of around € 5 million.
Over the period 2014-2020, several projects in which FEMTO-ST is a partner or coordinator are also the subject of ERDF funding and are briefly presented below:
 
Project SMART INN -
DESCRIPTION
The need for passive components operating at frequencies covering the VHF (30 to 300 MHz) and UHF (300 MHz - 3 GHz) bands is part of the development of systems for professional and consumer mobile telecommunications as well as on-board sensor detection, high resolution (Radar applications). Given the state of the art, the dimensional specifications and constraints typically imposed for this type of application, only a passive component guided elastic waves allows to consider a viable solution.
In this context, industrial companies in Franche-Comté have pooled their skills and pooled their development tools to innovate in the field of acousto-electric radio frequency components, expand their commercial proposal and make their products grow in a coordinated manner. For these different objectives, they rely on the FEMTO-ST institute and the Cristal-Innov platform (Rhône-Alpes) and develop the long-term SMART-INN research project which is organized on well-defined actions through specific sub-projects.
Contact : Thomas BARON
Duration : 2015 – 2019
Partners

Projet 3S MEMS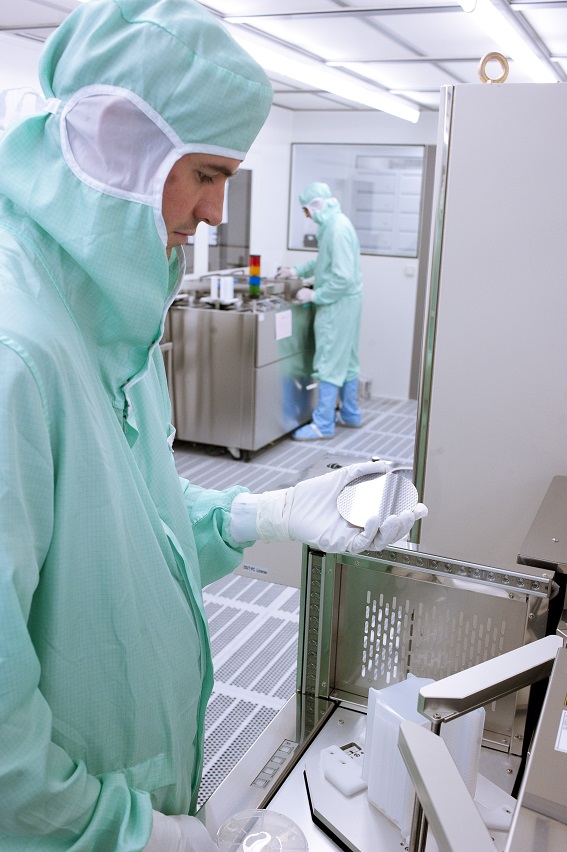 Le projet 3S MEMS bénéficie d'un soutien financier de l'Union Européenne dans le cadre du programme opérationnel FEDER/FSE Franche-Comté et Massif du Jura 2014-2020 (objectif spécifique 1.1).
Ce projet vise à l'émergence d'une nouvelle filière de production des MEMS silicium pour capteurs innovants.
Il bénéficie d'un budget global d'environ 9 M€ et implique quatre partenaires régionaux : les sociétés SilMach (coordinateur du projet), Percipio Robotics, Frec|n|sys ainsi que la centrale technologique "MIMENTO" de l'institut FEMTO-ST, via l'Université de Franche-Comté (SAIC).
Le budget relatif à FEMTO-ST est d'environ 4 M€ pour une aide estimée à 3.4 M€. (75 %), avec une part d'autofinancement correspondant à la valorisation des heures dédiées à la mise en œuvre de ce projet par le personnel permanent (CNRS et UFC) de la centrale.
Le projet 3S MEMS fonctionnera selon un modèle "fabless" . Ainsi, les 3 partenaires industriels, ne disposant pas d'outils de production adaptés, sous-traiteront la fabrication des puces elles mêmes à la centrale MIMENTO qui jouera le rôle de "fonderie" microsystème.
Par ailleurs, des actions de formation seront menées pour inciter les étudiants et jeunes chercheurs à travailler dans ce domaine et rester dans la Région, contribuant ainsi à développer et ancrer ce futur axe de spécialisation sur notre territoire.
Le projet, d'une durée de 54 mois, a commencé au 1er juin 2015 et se terminera le 30 novembre 2019. Il nécessite l'implication de la totalité du personnel actuel de la salle blanche et le recrutement d'ingénieurs dédiés spécifiquement au projet. Il permet l'acquisition de nouveaux équipements à "l'état de l'art" et adaptés à cette nouvelle filière, contribuant ainsi à améliorer l'infrastructure de la salle blanche.
Des actions de formation complémentaires du personnel sont également prévues.
Au terme de la première phase du projet (durée 18 mois) qui s'est terminée en janvier 2017, la modernisation de la salle blanche MIMENTO a été achevée grâce à  l'installation des nouveaux équipements prévus dans le projet (machine de gravure silicium DRIE de 6 pouces, système de rinçage  SRD 6 et 4 pouces, microscope CD-SEM 6 pouces, nettoyeur masque et wafer, aligneur 6 pouces, système de contrôle d'alignement) mais aussi grâce à la revalorisation des équipements existants (piste d'enduction automatique de 6 pouces, pulvérisateur Trikon 6 pouces, achats de pièces de rechange pour la mise en oeuvre d'une maintenance préventive), le renforcement des ressources humaines dédiées (recrutement de deux ingénieurs de recherche et d'un assistant ingénieur pour la maintenance) et l'amélioration de l'infrastructure de la salle blanche (réseaux des fluides, travaux d'infrastructure pour installer les nouveaux équipements).
En décembre 2016 un équipement de gravure SPTS-RAPIER, dédié à la gravure plasma du silicium a été réceptionné. Il permet notamment la réalisation de microsystèmes sur substrat silicium ou SOI (Silicon On Insulator) de 6 pouces
Pour la centrale MIMEMTO, ce graveur apporte des capacités étendues en termes de recherche et développement et permet de pérenniser les infrastructures de la salle blanche à travers la mise en place d'une véritable plateforme industrielle, propice à l'accompagnement de PME innovantes. Pour SilMach, ce graveur offre l'opportunité de réaliser des prototypes à façon et des séries de pièces faisant appel aux savoir-faire « process » développé par cette entreprise. Cet équipement lui permet ainsi d'asseoir le déploiement de la technologie ChronoMEMS par des moyens de fabrication modernes et fiabilisés.
Depuis février 2017, le projet est dans sa deuxième phase (24 mois) et vise au développement des procédés de fabrication industrielle de capteurs ChronoMEMS sur les équipements dédiés.
Depuis septembre 2017 une ingénieure d'étude spécialisée dans les procédés salle blanche a été embauchée pour compléter l'équipe technique du projet. Plusieurs visites de la salle blanche ont également été organisées, destinées à la fois au personnel de l'unité, institutionnels (UFC, Région, Pôle des Microtechniques), et partenaires industriels. Par ailleurs, une présentation du projet 3S-MEMS a été effectuée lors de la réunion annuelle des professionnels du réseau RENATECH (28-29 mars 2017).
Pour obtenir plus d'informations sur l'implication de l'Europe dans la région merci d'activer le lien www.europe-en-franche-comte.eu
Contact
Christophe Gorecki, FEMTO-ST
christophe.gorecki@femto-st.fr
Tel : 33 (0)3 81 66 66 07
MIMEDI
Project S3-4AlpClusters
A Project of Smart Specialisation in the Alpine Space
The S3-4AlpClusters is supported by the European Union through the Interreg V B Alpine Space programme.
The objective of this project is to enhance the framework conditions for innovation in the Alpine Space clusters. To achieve this goal, the fourteen partners will work to:
- Initiate information and knowledge exchanges between decision-makers in the various regions of the Alpine Space in involving companies, academics and the civil society;
- Facilitate innovation through cluster initiatives across regions with a strong technological orientation and with a high complementarity among the involved clusters;
- Launch a cluster-to-cluster cooperation in involving all the related partners: local decision-makers, academics, companies and the civil society.
The project will last 30 months, from 11/01/2016 to 04/30/2019, with a global budget of €2.521.964, including 1.929.500 from the ERDF programme.
For more information, please visit the project website