Research
Applied Mechanics department
Applied Mechanics Department
Materials, surfaces, processes & structures
You are here
Research departments

Applied Mechanics
µFab
Mechanical micro-manufacturing

Context
The theme "Mechanical Micro-manufacturing" is interested in the analysis, theoretical and experimental, and in the optimization of the micro-manufacturing processes using material removal (µ - machining). The processes of micro-ablation more particularly targeted by the theme are µ -milling, swiss-turning and micro-electrical discharge machining, mainly for applications involving hard or difficult to work materials.
A specificity of the theme concerns its industrial anchoring. A large part of the research works are led in partnership with industry: manufacturers of cutting tools, mold makers, suppliers of biomedical devices or glasses, watch-making manufactures…

Objectives and scientific themes
The objectives are multiple:
The main objective is to define and\or to optimize a range of operations for manufacturing a micromechanical component or presenting functional micro-geometrical details. For that purpose, it is necessary to define or to optimize: a process or a chain of processes, the workpiece geometries in all processing steps, the tooling, the possible lubricant, the workpiece/tool/machine connections, and the kinematic conditions (process parameters and tool/workpiece trajectories). In this frame the metrology methodologies must be adapted to the size, material and geometry of the workpiece with the aim of assuring the expected quality level, whether it is for a unique piece or a series.
The main scientific themes approached to satisfy these objectives are:
Study of the tool-material interactions in small scales and in real or realistic configurations,
Development of associated experimental devices and methodologies for testing and characterization,
Development of phenomenological and thermo-mechanical models allowing to understand and to predict the tool and product behaviors, as well as the associated size effects,
Optimization of tooling and operations, and even re-design of micromechanical parts,
Combination of nano and micro-manufacturing techniques, and especially functionalization of white rooms products or coatings,
Proposal of industrial techniques for micro-manufacturing and characterization.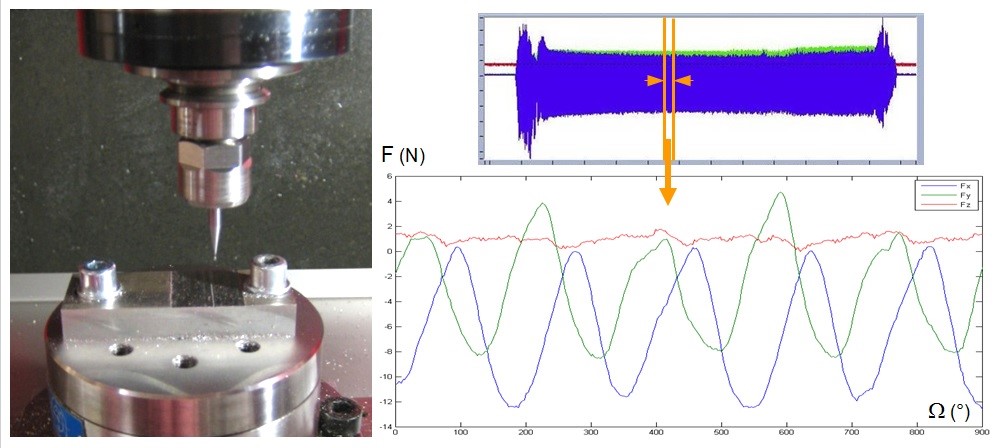 Know-how
The observation, experiment and modelling of micro-manufacturing operations, such as µ -milling, swiss-turning and µ-EDM, allow us to understand the involved phenomena, to identify optimal and usable working conditions, and to propose micro-manufacturing strategies adapted to the need.
The development of modellings and associated characterizations is often complex because of the considered scales, of possible scale effects in the behavior of structures and materials, of the seclusion of working zones, of potentially high speeds and temperatures, of the usual presence of a third fluid body, of geometrical and kinematical defects, or finally dynamical instabilities.
Implementation
The activities of the theme leans on the available technological means within the "Shaping pole of the department and within the MIFHySTO platform (e.g. micro-milling machines Kern HSPC and Willemin W148, µ-EDM SARIX SX-200 Dual machine, swiss-turning machine Star SB12). The theme also uses dedicated devices of observation and metrology without contact (SEM, rheological testing, vibrometry, fast imaging, etc.).
Last modified:
2020-11-10